We help exporters drive down costs.
Bowmans Rail is recognised by Governments as a crucial logistical link in the export trade.
We are the final export link to:
China
Japan
India
Turkey
Pakistan
Mauritius
Korea
Taiwan
Sri Lanka
And other export markets.
Wherever in the world there is a growing middle class there is a growing demand for Australia's premium food products and minerals. The Bowmans Rail export advantage includes:
Outstanding cost efficiencies
Value adds
Know-how and practical experience
Advice on reaching the world's markets efficiently.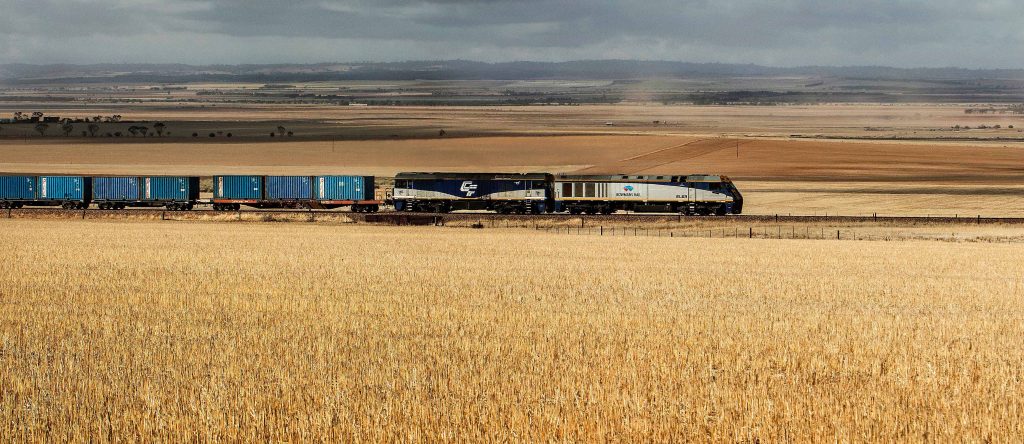 Rail vs. Road - fast facts
Rail is the most cost effective mode of transport for inter-capital containerised freight movements.

Every road journey replaced by rail potentially reduces travel time for remaining road users by between around 7 and 27 minutes.

Rail is a smarter economic choice for freight haulage for Australia. One freight train from Melbourne to Sydney replaces 110 semi-trailers travelling on the road.
Rail is up to 9 times safer than road freight.

Road generates over 40% more carbon pollution than rail travel per kilometre travelled.

Road freight produces 14 times greater accident costs than rail freight per tonne kilometre.
Rail services
Bowmans Rail supplies an integrated, high-value service to its customers. In combination with our two intermodal container terminals, our rail services provide a measurable economic benefit in line with rail's cost-effectiveness over road. Bowmans Rail advanced IT systems stand them ahead of their competition and contribute to their success in moving freight from anywhere to anywhere.
We operate daily return services to the inner and outer harbour of the Port of Adelaide. A rail duplication is planned in our terminal as our throughput requirements increase and has been made possible with the State Government's support for rail freight in South Australia.
The future of rail freight in Australia
Into the future, business as usual practices in the freight transport industry will no longer be sufficient to ensure Australia's international competitiveness in light of the challenges posed:
 

The doubling of the land freight task by 2020, and the tripling of the task by 2050;

The projected growth of Australia

'

s population to 35 million by 2050;

The resultant road congestion issues (projected to cost Australia $30 billion p.a. by 2020);

The resultant scarcity of urban land;

The inefficiencies caused by the large volume, often inconsistent and duplicative regulations;

Increasing cost of liquid fuels; and

The move towards a carbon restricted economy.
(Facts reproduced by courtesy, Australasian Railway Association)
Intermodal services
Bowmans Rail operates two intermodals – one at Bowmans, 100km north of Adelaide, and one just outside Port Augusta.
The Bowmans intermodal is Australia's largest inland regional port and a critical physical distribution link in the State's transport and logistics infrastructure.
It is central to the national north-south and east-west road networks.
Secure, safe container services at Bowmans include:
40,000 square metre hard standing area

Capacity to accommodate trains up to 1200m and road trains up to 36.5 metres

600-hectare 24/7 industrial estate

Container fumigation

Container washing and cleaning

Primary industry inspection and repair services for containers

Power for reefer containers

Central to the national north-south and east-west rail and road networks.

Capacity to pack on site

Access to empty containers

Daily service links

Links to container parks in Adelaide

Experience and support for regional oil and gas and mining and agriculture industries.

Access to empty containers and a competitive alternative to road freight and bulk supply chains.
The Port Augusta intermodal opened in March 2018 and has a 3600 square metre hard stand, semi-trailer access, 24/7 operation, and handling capacity of 3,000 containers p.a.
It shares many of the features of the Bowmans intermodal and has been described as a 'milestone in the efficient running of logistics' in the region. 
As a terminal there is the ability to:
Load and unloading trains with containers and break bulk freight

Pack and unpack containers on site

Transfer containers to and from customer sites using a side loader.
It provides greater synchronisation of land transport with the Port; greater efficiency; cost savings; smoother scheduling and better co-ordination and management, benefitting the entire Upper Spencer Gulf and servicing not just agriculture and mining but also the 30-kilometre belt of high-tech energy developments underway or planned in the USG.
Bowmans Rail infrastructure
Road and rail services
Adjacent to the main north, south, east and west ARTC national rail network

Currently 35 services a month to Port Adelaide and two to three services per week between Port Augusta and the Port of Adelaide.
Container precinct
Containers are parked on hardstand for delivery on just in time basis to ports

Consolidation opportunities for users

Staging and container packing

Container fumigation on site

Container repair

Container inspection to government standards.
Nearest town
The nearest towns are Balaklava, Port Wakefield and Port Augusta
Recognition
Recognised as the only intermodal operation in SA, originating around 15% of SA's export container freight.
Storage/handling capability
600 hectares of industrial land

Consolidation of materials for transport by rail is at a single location
Workforce
Sites employ a stable workforce of more than 100, with staff living in the areas
Integrated container handling depot
Change from road to rail which provides an established handling capability

Freight aggregation recognition
Operating hours
The two sites operate 24/7
Bowmans Rail R&D
Bowmans Rail and its rail equipment and container suppliers are making a significant investment in R&D to stay ahead of the game in containerised freight and hone our leading edge in value added services.
These developmental projects include containers which can be filled in paddock or at mine sites and transferred directly to the processors or market.
We want to provide:
The most appropriate containers
The most appropriate equipment
The best supply chain
The best outcomes for our customers, maximising benefits from our integrated rail and intermodal services.
Bowmans Rail specialty operations
Bowmans Rail provides an integrated, high-value service to its customers. Rail is more cost effective than road, but it's the value-add at our intermodal container terminal that unlocks the real difference.
We work with our customers to optimise their transport needs, developing tailored techniques to suit individual requirements and products.
Agriculture and horticulture
Hay and grain exports were early drivers in the development of the Bowmans intermodal terminal and remain important to our business. We handle exports to Japan, China, Korea and Taiwan and closely monitor other opportunities around the world. The site is Department of Agriculture, Fisheries and Forestry accredited and biodiversity secure.
Mining, oil and gas
Bowmans Rail has more than a decade of import and export experience with the resource sector.
We can safely and securely store high volumes of mining equipment, including hazardous materials, away from populated areas, and transport them to site.
This is additional to transporting containerised processed mine products to port.
The use of rail improves commercial efficiencies and provides social benefits through reduced emissions, congestion, road maintenance and oil dependency and improves road safety.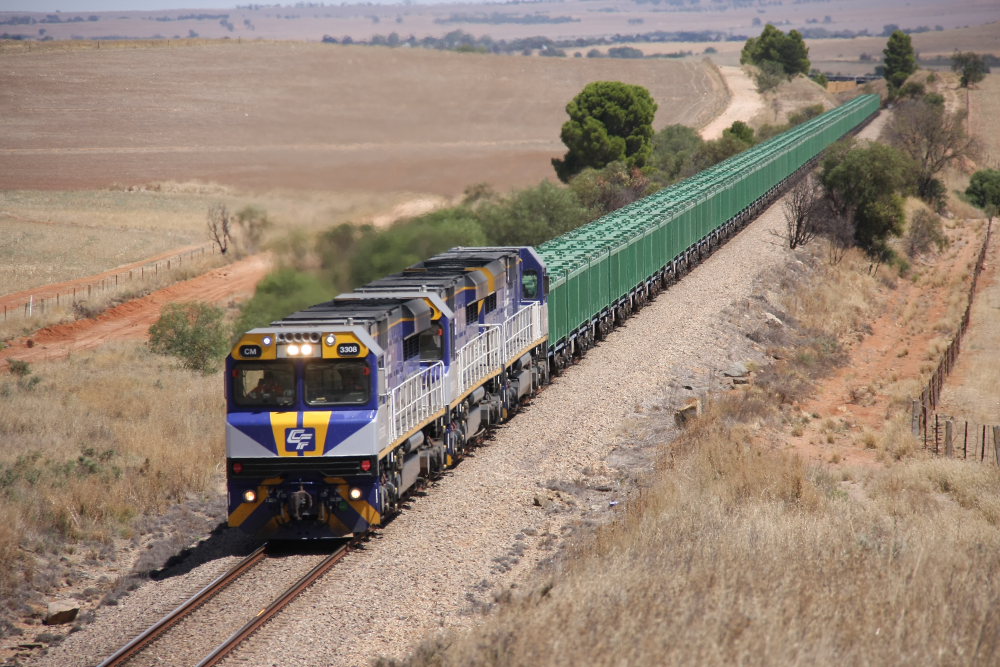 Bowmans Rail's exciting future
We have a dynamic, high-growth business plan based around our two intermodals and our expanding rail services. Our commitment to all our customers is that we will always be value-driven.
Agriculture and mining are major components of our current business but we are continuing to expand into other sectors, providing great value based on our integrated approach to full servicing.
We are ideally located to service exciting renewable energy projects and other developments in the Upper Spencer Gulf and Eyre Peninsula and the resurgence of the mining industry.
China and India, among South Australia's most important export markets, are very important to us and our business plan incorporates monitoring and developing other emerging world markets.
Annual Rollingstock Performance Report
Locomotive Class
Locomotive Identification Number
Type/Model
Engine Manufacturer
Engine Model
Date of Major Engine Overhaul
In Service locomotive noise testing (Excludes Legacy Locomotives) Where the noise measurements obtained under Condition M5.3(a) exceed the limits in Condition L3.5 by more than 5dB and/or exhibit tonality in accordance with Condition L3.6, provide details of the management plan below:
Proposed feasible and reasonable noise mitigation measures to reduce noise emissions from the locomotive to comply with Conditions L3.5 and L3.6.
Timeframe to implement noise mitigation measures
Date Mgmt Plan submitted for EPA Approval
Date plan approved by the EPA.
No locomotives used by Bowmans Rail underwent a major engine overhaul in the reporting year.